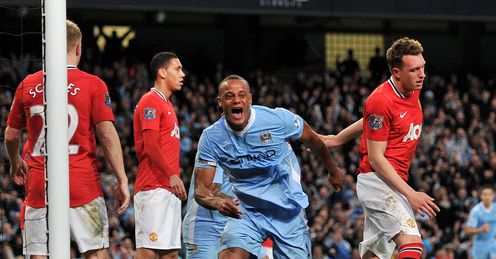 Kompany's winner vs Manchester United a couple of games ago.
For me, this has got to be the best Premier league season ever. Head to head at the top, a thrilling race for Europe and a tense battle down the bottom. I can't remember a better year.
The Relegation battle has never been tastier and this week just summed it all up. Bolton faced WBA at home and was leading 2-0 while relegation rivals QPR were drawing 0-0 at home to Stoke. WBA pulled a goal back. Bolton players knowing this is a must win game started to become nervous. Meanwhile all the Rangers fans knew other results were not going to plan, but in the dying minutes a corner is taken by Taarabt who finds Ferdinand at the front post, he nods it into the danger area and BOOM!!! Cisse hits the back of the net in the 89th minute. Four minutes later WBA get an equaliser. Full time whistle is blown at both grounds.
QPR on the verge on being relegated (Man City in last game so unlikely to get much) to being favourite out of them and Bolton to stay up. I don't know how the fans and Players at Bolton must be feeling, they must be crying inside.
Cisse's winner for QPR on Sunday vs Stoke. Will it be the goal that kept rangers up?
The relegation battle was a 5 horse battle for a while with teams looking safe and then become dragged back in to the mix (Blackburn). Wigan has been on an amazing run beating a few top teams and Rangers winning 5 in 5 at home. Now both Bolton and QPR will be fighting for that remaining spot in the Premiership.
With the title race still going down to the wire, City were five points clear in December and then united eight points ahead in Easter. Both team are on equal points going into the last game of the season, City are on top due to goal difference.
What makes it even more entertaining is the fact it's both Manchester clubs, a local rivalry, then having to play the all crucial Derby weeks before the end of the season which was a massive game that will help decide the Premier league champions.
Manchester United champions last season.
European places are all to play for no one is guaranteed Champions League football next season yet. Spurs were clear favourites for third spot and at one stage pushing the top two. But then Redknapp was supposed to be the top man for the England job, lost focus and Spurs form dipped. Which I think was a small reason why we saw this happen the other was just form.
Arsenal having a shocking start of the season a few were questioning the top man Wenger, he managed to bring it back to overtake Spurs in third spot then became shaky themselves dropping easy points.
Newcastle the surprise package out of the lot, wow what a season they have had. No one had guessed Newcastle would be pushing for a European spot. Then Chelsea expected at the start of the season to be higher up the table but under AVB it didn't click. Recent form has seen them have a real shot. Chelsea could still make European football next season even if they don't finish in the top four, as still have a champions league final to play for.
How terrible would it be for the team finishing fourth but missing out, heart breaking.
The goals this season have been pure amazing, so hard to single one out. Crouch's volley from outside the box that lobs the keeper, Cisse's outside foot swinging lob on Cech. Suarez 40 yard chip at Norwich. These are just the recent ones I could go on and on.
Also all the massive score lines we have been seeing the recent smashing of QPR at Stamford Bridge, the other 6-1 Man city gave to Man united. The Chelsea vs Arsenal game, Spurs vs Man city game, again the list goes on.
Cisse's amazing goal vs Chelsea.
No other seasons have had all top six spots up for grabs on the last game of the season while a team will still be relegated on the last day. So much will happen this Sunday its one to watch.