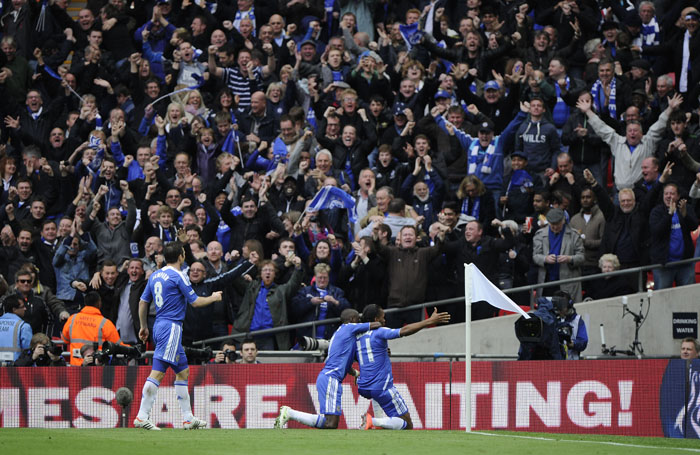 Drogba Celebrating hes goal yesterday.
So yesterday saw Chelsea win their 3rd FA cup in 4 years with a close 2-1 win against Liverpool at Wembley Stadium. Didier Drogba got himself on the score sheet once again, scoring 4 goals in 4 FA cup finals which is now a new record. He has now netted 11 goals in all competition this season.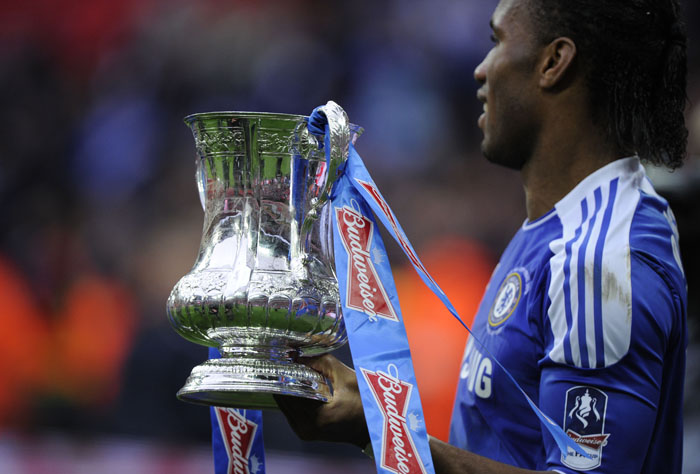 Drogba with the cup yesterday.
The first Drogba FA cup final goal dates back to

19 May 2007 when Chelsea went on to win 1-0 against Manchester United. The following goals were in the 2008/09, 2009/10 and 2011/12 cup finals which Chelsea ended up winning all of the finals.
ET winner in the 2007 FA cup final.
Oh boy how Drogba loves the new Wembley he has extended he's amazing record of scoring in every cup tie under the arch for the eighth time. Scoring eight in eight is some achievement and shows how Drogba is suited for the big occasions.
When the Ivorian was asked about he's scoring record he said this.
"I'm very proud. I'm very proud of it, but I have to give credit to all my team-mates.
"During the last six years, I've been playing here all the finals, I'm really happy and I really want to thank them because they always put me in the best conditions to score goals.
"We made history, not only me. The result is great for us, for the fans, for the club. Our fourth FA Cup final, fourth win, fourth trophy, so I'm happy. That's why we play football, to play finals."
Now Drogba has the chance to create a legendary status at Chelsea. We are all expecting him to start in the Champion League final later this month. Didier already scoring against Barcelona in the semi-finals will be up for the challenge of beating Bayern Munich on their home ground Allianz Arena. Now Drogba can go on a get the winner in the final, it would be an amazing end to the Chelsea man career if he doesn't sign a new contract at the club.
The Chelsea man will be hoping to get his hand on the amazing trophy.
By: Ryan Cunningham